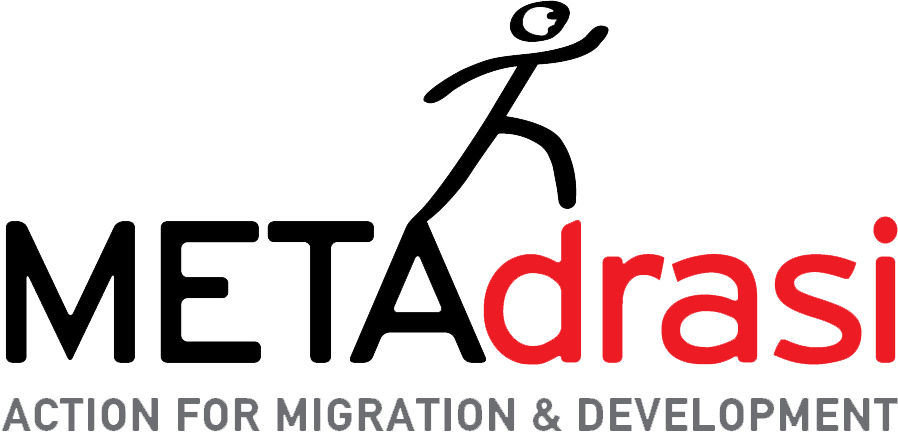 Updated at: 2022/05/26
Covid-19
Do you need help to get vaccinated?
Come to METAdrasi
It has been noted that many refugees and migrants face difficulties in making appointments (they have various communication problems due to the language barrier, they do not have internet access, they are not familiar with the procedures, they do not have the required documents, etc.).
The specialized helpdesk service assists refugees and migrants in making an appointment for vaccination against Covid-19.
Those interested can send to METadrasi's helpdesk an SMS with their name and the language they speak, via Viber or WhatsApp at +30 6908091492, or send an email to covid19vaccine@metadrasi.org
Languages spoken: Greek English & 47 languages and dialects with the help of interpreters 
Address 7, 25 Martiou str., 17778 Tavros
Accessibility & Additional Information
How should an appointment be made :Phone, WhatsApp, Viber, Facebook, etc.
The entrance to this location has a ramp : YES
This location has an elevator : YES
This location has female staff ; YES
This location has separate bathrooms for men and women : YES
All Services Listed Are Free of Charge : YES
Opening Hours
Monday open from 10:00 AM to 06:00 PM
Tuesday open from 10:00 AM to 06:00 PM
Wednesday open from 10:00 AM to 06:00 PM
Thursday open from 10:00 AM to 06:00 PM
Friday open from 10:00 AM to 06:00 PM
Contact Information
email: covid19vaccine@metadrasi.org
facebook_messenger: https://www.facebook.com/metadrasi
phone: 302141008700
viber: 306908091492
website: https://metadrasi.org/en/
whatsapp: 306908091492
null
null
Address in local language
25ης Μαρτίου 7, 17778 Ταύρος
Click here to see the address in GoogleMaps.